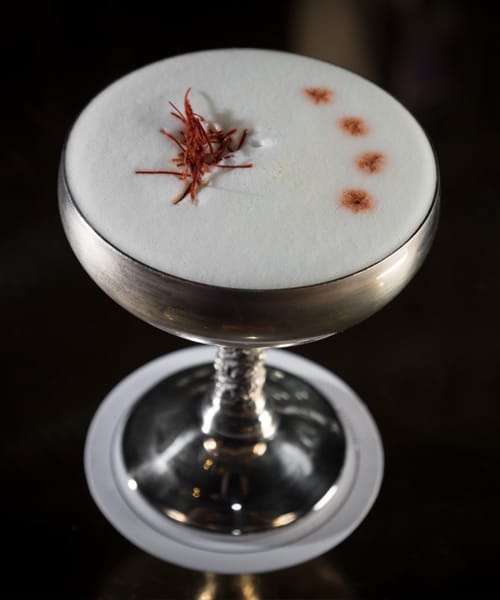 ORO ROJO
Wint & Lila Vodka, Merlet Triple Sec, citrus fruits, thyme and saffron
Saffron, an inimitable spice that has acted as currency for thousands of years in a range of cultures.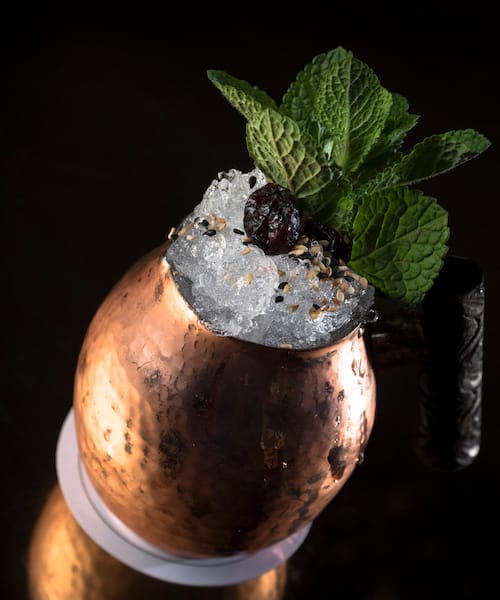 Tabbulé Mule
Kraken rum, ginger, basil, sesame and parsley with citrus fruits
One of the most fresh-tasting combinations of traditional Lebanese cuisine.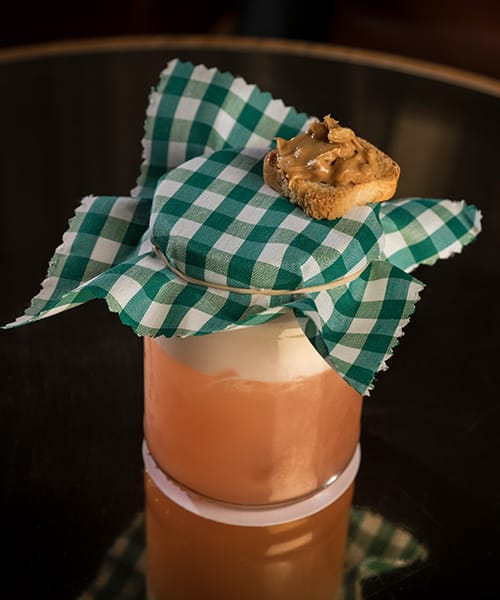 Marmalade Cook-tail Edition
Bombay Dry Gin, Aperol, citrus fruits, apple and cinnamon jam
Pays tribute to the tradition we learn from our mothers and grandmothers…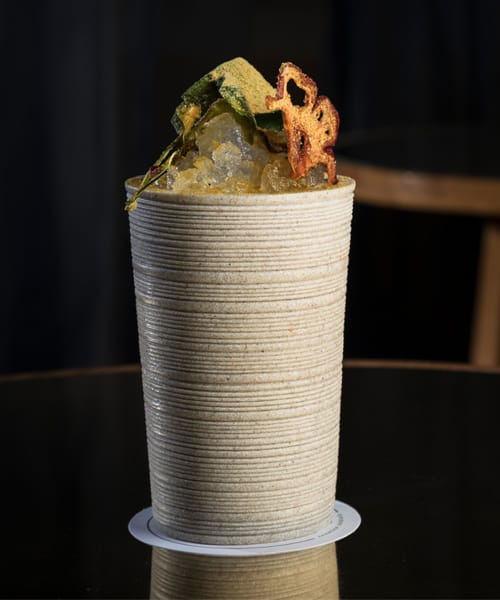 El Chilcano del Marqués de Carabantes
Chamomile-infused BarSol Pisco, cucumber, citrus fruits, Italicus bergamot liqueur and Yuzu soda
A tribute to Peruvian cuisine, it bears the name of the Spaniard who introduced the first grapes to the Pisco region.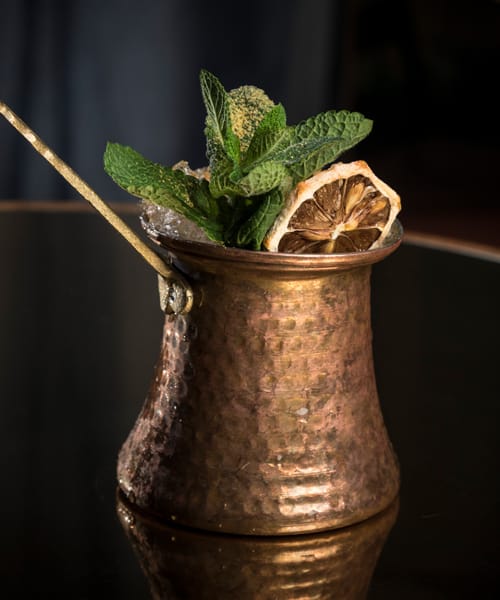 Baklava
Gin Mare, Nojae elderflower liqueur, citrus fruits, green tea, basil and pistachios
Turkey. One of the most prominent Mediterranean cuisines. Our particular version is served in a classic 'cezve'.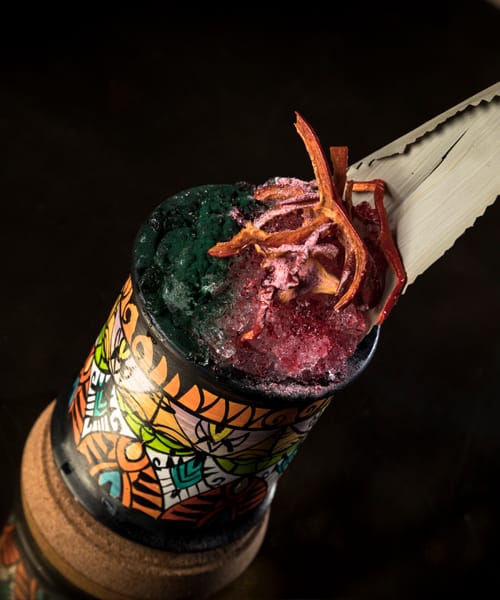 El Chilerito
Mezcal Burrito Fiestero, Sake, grapefruit, tamarind, Chamoy sauce and soda water
Sweet, spicy and acidic; originating from La Paz. We speak of a sauce that "unites cultures".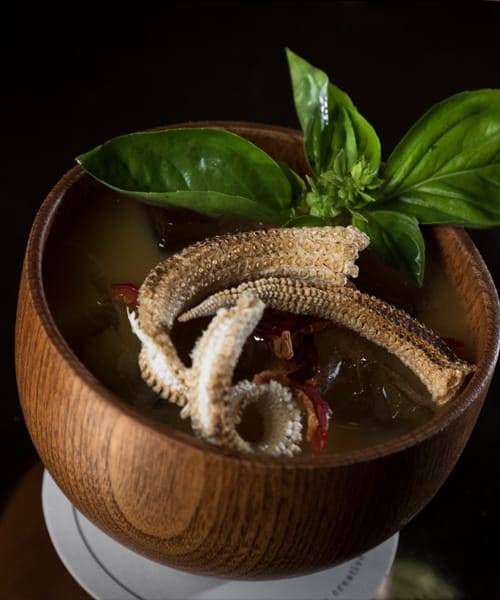 Mango & Curry Thai
José Cuervo Tradicional Tequila, mango, coconut, agave, Kiaw Waan and keffir lime
Aphrodisiac and fun, spicy and spiced… "Welcome to Thailand" "Thi mo som".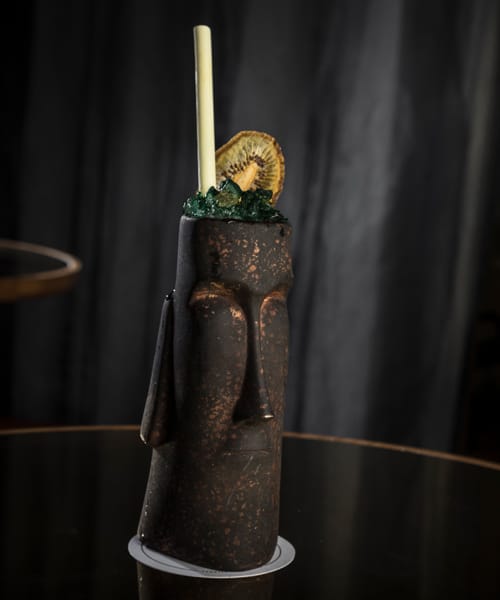 Maui Tikitiki
Gin, Nojae elderflower liqueur, yellow kiwi fruit, citrus fruits and cantaloup
Maori god, known as "the Whale Rider". His favourite food: the New Zealand kiwi fruit.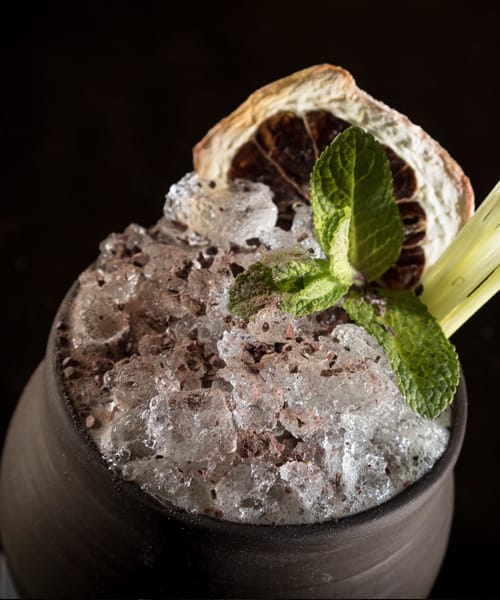 Kinilaw
Don Papa rum, Jerez Cream, lime, Philippine Calamansi shrub, coconut water and ginger
From our trip to the Philippines, a nod to the Asian and Spanish influences on the gastronomy of these islands. Served in a Mallorcan clay jar by J. Roig.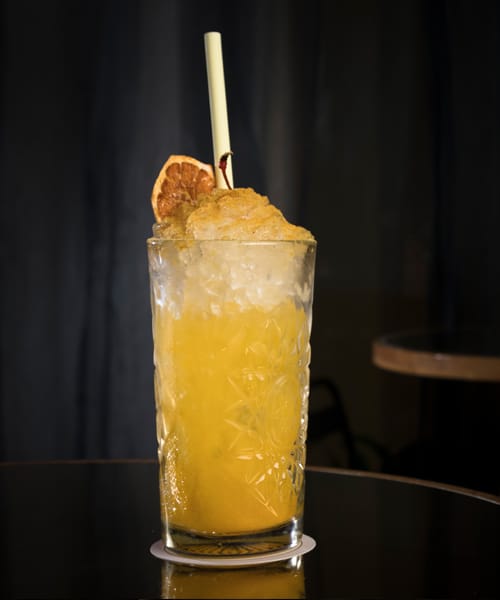 Spéculoos Collins
Orange, lemon, pineapple, cinnamon and ginger beer with chili
Cinnamon, ginger and spices, with a touch of citrus fruit.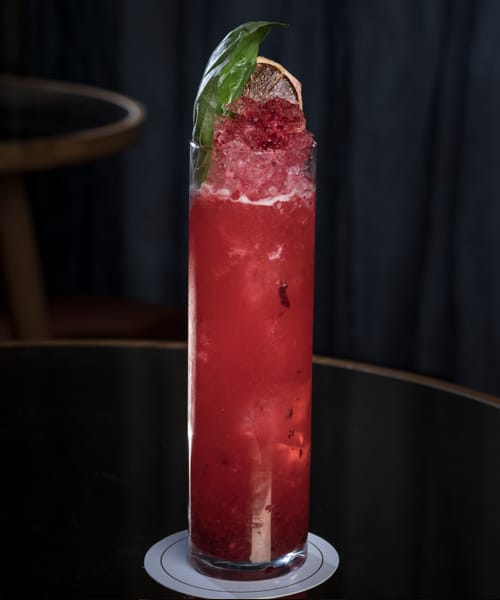 Smash de Tulsi y Manzana
Fresh basil, lemon, pineapple, sharp apple, melon and red berries
Basil is valued for its medicinal properties and also for its spiritual benefits… Relax!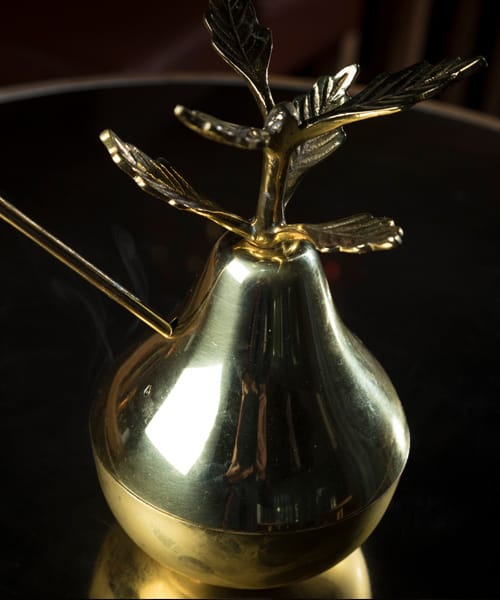 Oriental Quince
Sake, Ferdinand's Dry Quince Gin, citrus fruits, Japanese tea, ginger and lavender aromas
The classic aroma of these European areas: grapes, quince… Along with the fresh and exotic touches of Japanese culture.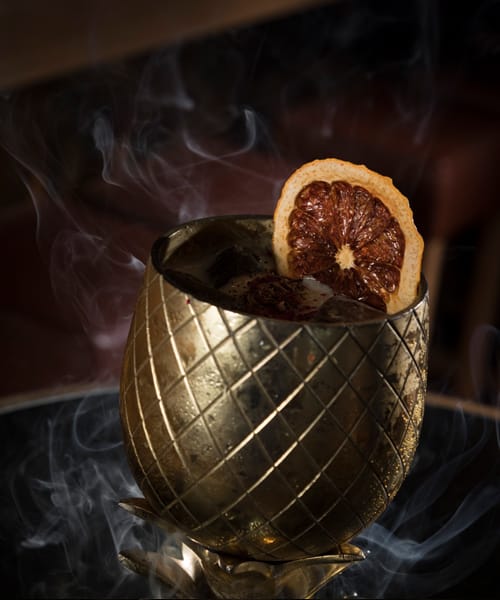 Creole Pineapple
Capucana Cachaça, Don Papa rum, pineapple, vanilla and 'creole' mandarin soda
New Orleans is characterised by the multitude of influences from other cuisines: Spanish, French, Italian…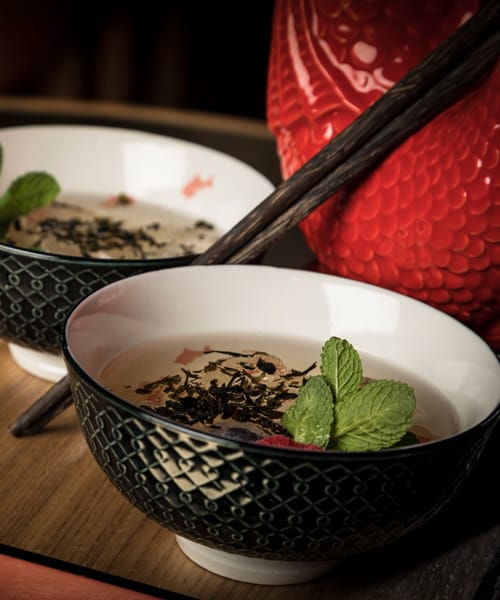 Koi Nikkei
Sake, chamomile-infused BarSol Pisco, Choya Umeshu liqueur, green tea and ginger with chilli
The cultures of Peru and Japan come together in a symbol of good luck, sharing moments and strength…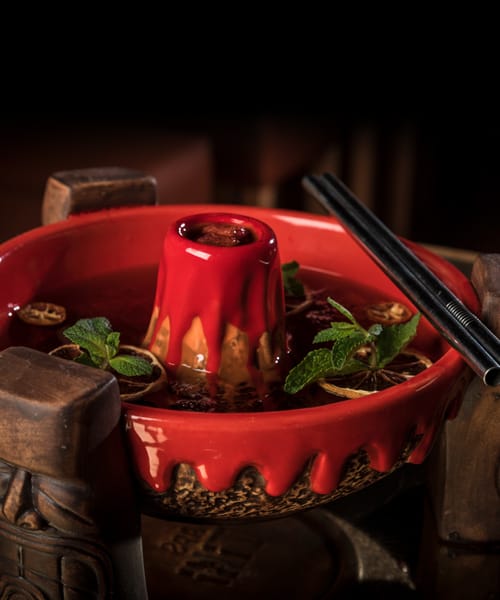 Volcano Island
Macallan Amber whiskey, Don Papa rum, grapefruit, pineapple, lime, Velvet Falernum and cinnamon
Luzon (Philippines) houses one of the most curious fusions of the world: the Taal volcano.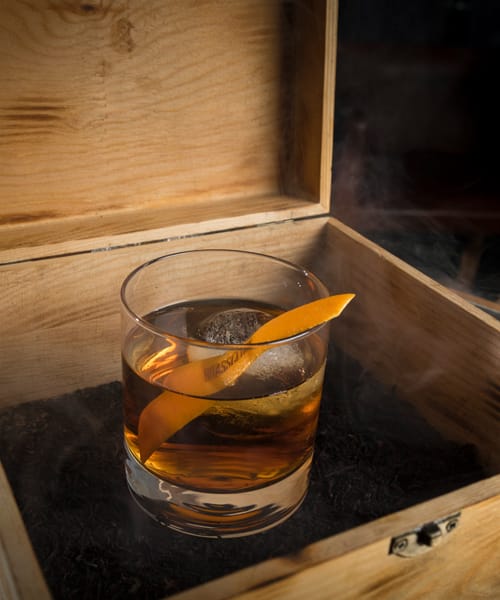 Tea Old Fashioned
Maker's Mark Bourbon infused with Lapsang, maple and cocoa bitters
One of the most well-known customs: afternoon tea…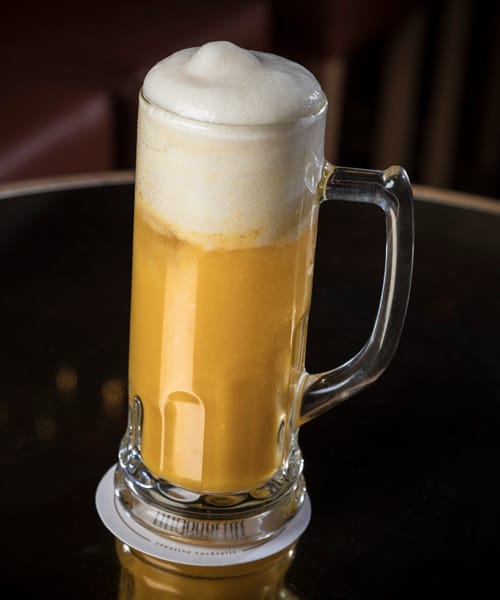 Lupulus Kentucky
Maker's Mark Bourbon, mango and passion fruit, agave and Mallorcan IPA
A very particular fusion between Bourbon County, Mexico and Alcúdia.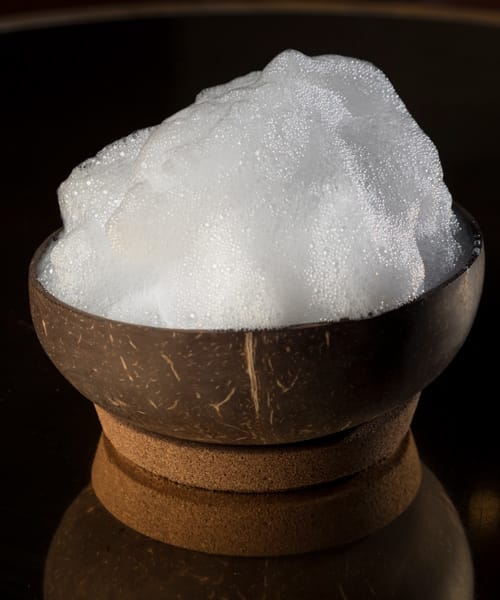 Makham Soup
Citrus vodka, Ancho Reyes, tamarind, lime and chestnut puree
From one of the paradise beaches of Thailand: sweet, spicy and fruity fusion.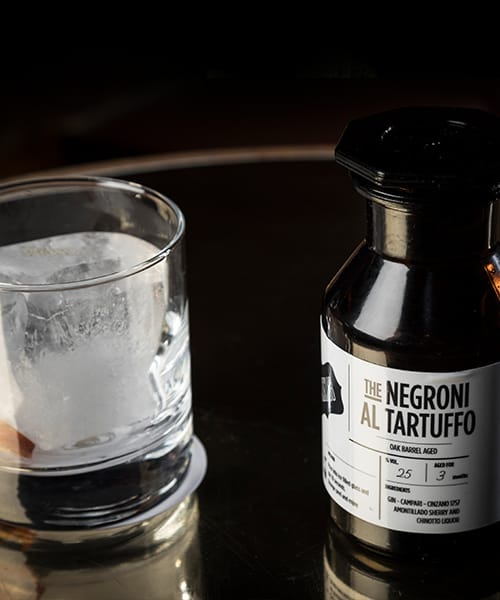 Negroni al Tartuffo
Gin, Campari, Cinzano 1757 and our secret ingredient...
Two jewels of Italian gastronomy aged in Campari oak barrels.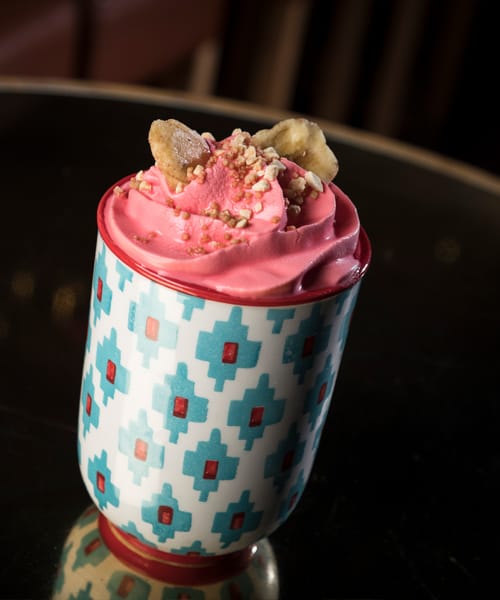 Plàtan i Ametlles
Kraken rum, Disaronno amaretto, pineapple, banana, coconut cream and vanilla
Our 'tiki' inspired by the classic dessert of the traditional Mallorcan restaurants.